We are a small breeder of exceptional companion, multi-generational Australian Labradoodles located in the central Florida area near Orlando. Our litters are hand raised in our home.
04/12/17 ~ Millie and Winston puppies have arrived! They will be medium multigenerational Australian Labradoodle furbabies. The parents are Trinity's One in a Milli-e-on and Tampa Bay's Sir Winston (owned by Marcia at Bay Lake Doodles). Puppies are chocolate and cream. We have 2 reservation spaces available at this time. Pups will be ready to go home in the beginning of June. Check back for additional details as we work to update our site.
Trinity's One in a Milli-e-on AKA Millie

Tampa Bay's Sir Winston owned by Bay Lake Doodles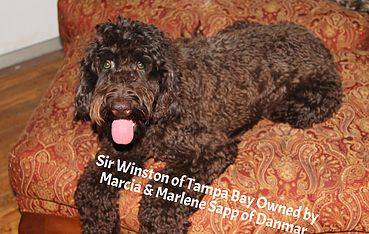 Occasionally we have older puppies that have the added value of already experiencing many of the 'fun' aka potty training, chewing, etc...puppy stages with us. Let us know if this is an option that may be ideal for your family and we will advise you of our availability.
~ Have you visited our Trinity Doodle facebook page yet? ~
We are accepting applications for future guardian family opportunities.
Thank you for visiting our website!
---
Getting a puppy can become very emotional, sometimes overpowering the part of us that generally makes informed decisions ~ one of the reasons puppy mills remain profitable.
I urge you to make informed choices and
do your part to help ~
*WARNING very graphic and disturbing pictures, yet a story that MUST be told.


---
Please stop by and visit our friends at the Doodle Rescue Collective.